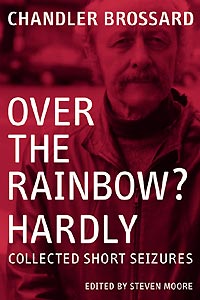 Chandler Brossard
OVER THE RAINBOW? HARDLY
COLLECTED SHORT SEIZURES
Edited and with an introduction by Steven Moore Alhough best known as the author of two of the earliest Beat novels (Who Walk in Darkness and The Bold Saboteurs), Chandler Brossard displayed his exuberant imagination best in the shorter works he wrote during the second half of his life, all of which are collected here.
A Chimney Sweep Comes Clean is a hilarious account of life in England in the early 1970s, while Dirty Books for little Folks consists of erotic revisions of classic fairy tales. The novella Raging Joys, Subline Violations is a scorching attack on America's imperialistic policies in Vietnam and elsewhere, while Postcards is a folksy walking tour of a Kafkaesque Amerika. Closing the Gap and Shifty Sacred Songs are slippery meditations on language, and Traditionally a Place of Banishment is Brossard's only venture into poetry. Literary critic Steven Moore furnishes a lengthy introduction to this omnibus collection from one of the most daring, inovative writers of postwar America.

Chandler Brossard (1922-93) was born in Idaho Falls, Idaho, in 1922 and grew up in Washington, DC. He left school at an early age and was largely self-educated. During the 1940s he worked for a variety of newspapers and magazines, including the Washington Post, Time, and the American Mercury. He Published numerous books of fiction over a forty-year period, many of which were translated into other languages. Apart from brief periods in Italy and San Francisco, he lived most of his life in New York City, where he died in 1993.
Trade paperback - 322 pages - $15.95
6" x 9" -

Order this title:
from Sun Dog Press
from Amazon