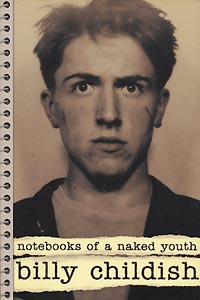 Billy Childish . . .
NOTEBOOKS OF A NAKED YOUTH
By daring to give everything of himself, his most painful and secretive thoughts, Billy Childish has broken through to a whole new expression never before seen in English writing. Highly personal and uncompromising, Notebooks of a Naked Youth is narrated by one William Loveday, an acned youth, possessed of piercing intelligence, acute self-loathing and great personal charm. Haunted by sexual desires, William Loveday leads us on a naked odyssey from the "rust belt" of industrial North Kent to sleazy sex clubs of Hamburg's Reeperbahn—a twilight world of murderous pimps and tattooed hermaphrodites — and a final descent into an expressionist hell. Childish's "fantastic biography" achieves what only the most foolhardy would ever attempt: the unholy union of punk rock, Knut Hamsun and Celine. The result is a hilarious, drunken, un- English voyage into the human shadow — the ultimate antidote to the Oxbridge pretenders and mindless hype of drug culture. One thing separates Childish's voice from all those of his contemporaries: he can write like the devil!

About Billy Childish
In a twenty year period, Billy Childish has published over 30 collections of his poetry, recorded over 75 full-length independent LP's, and produced over 1000 paintings. His records with his many different bands, including Thee Headcoats, have been released in this country by Sub Pop among others. He has a major cult following in the United States, Europe, and Japan.
Trade paperback - 248 pages - $14.00
6" x 9" - ISBN 0941543218
Order this title:
from Sun Dog Press
from Amazon